Smart LEDbox 35 mm Single Sided
• 29 mm profile thickness.
• Treated acrylic in the middle provides
homogenous lighting.
• LED lisgt panels are ideal for wide range
of indoor applications.
• Maximum poster size is 1200 x 2415 mm.
ACCESORIES
SIZES
20″ X 30″ (508 X 762 mm), 30″ X 40″ (762 X 1016 mm), 40″ X 60″ (1016 X 1524 mm), A0 ( 841 X 1189 mm), A1 (594 X 841 mm), A2 (420 X 594 mm), A3 (297 X 420 mm), A4 (210 X 297 mm), B0 ( 1000 X 1414 mm), B1 (700 X 1000 mm), B2 (500 X 700 mm)
Smart LEDbox 35 mm Single Sided Product Description
Smart LEDbox 35 mm Single Sided
An illuminated banner frame is an effective sales tool for promoting a service or product by adding light to a display. Smar LEDbox single Side lightbox has instant open moulding features to easily scroll in your ad graphs and also have a low profile, measuring 29 mm depth. LED light boxes, utilizes LED light bulbs to emit a displayed post.
We suggest you use semi-transparent graphics to make your display better. A low-voltage illuminated banner frame is designed to display graphics in either vertical or horizontal form. All necessary equipment that changed the direction was included. We provided mounting brackets and hardware to match both sides of the illuminated banner frame.
This illuminated banner frame is perfect for use in a commercial environment to highlight an advertisement or promotional screen. They are ideal for retail stores and public transport areas.  Also the holder is very incredible. This illuminated banner frame, with a slim profile, is only 1,53 "or 39mm deep. So when it is properly placed, it rests against a wall, it will look smart and it will catch passers-by from coming in and out.
It is shipped with power supply. If you wish to use your LED frame 24 hours in 7 days, please ask for special 7/24 power supplies.
Smart LEDbox 35 mm Single Sided Accessories
Smart LEDbox 35 mm Single Sided Product Specifications
MATERIAL : Silver anodised aluminiumPROFILE: 35 MM
WEIGHT
PACKING SIZE
ARTICLE
EXTERNAL (x-y)
POSTER
COPY
LIGHTING
WITH PACKING
*W X H X D
ULD35TN0A4
257 X 344 mm
210 X 297 mm
187 X 274 mm
4200-4500 LUX
2,910 kg
320 X 510 X 70 mm
ULD35TN0A3
344 X 467 mm
297 X 420 mm
274 X 397 mm
3900-4200 LUX
3,560 kg
410 X 630 X 70 mm
ULD35TN0A2
467 X 641 mm
420 X 594 mm
397 X 571 mm
3500-3900 LUX
5,505 kg
530 X 810 X 70 mm
ULD35TN0A1
641 X 888 mm
594 X 841 mm
571 X 818 mm
3000-3300LUX
9,285 kg
710 X 1060 X 70 mm
ULD35TN0A0
888 X 1236 mm
841 X 1189 mm
818 X 1166 mm
2500-2800 LUX
16,080 kg
960 X 1400 X 70 mm
ULD35TN0B2
547 X 747 mm
500 X 700 mm
477 X 677 mm
3000-3300 LUX
6,928 kg
710 X 910 X 70 mm
ULD35TN0B1
747 X 1047 mm
700 X 1000 mm
677 X 977 mm
2600-2900 LUX
12,065 kg
810 X 1210 X 70 mm
ULD35TN0B0
1047 X 1447 mm
1000 X 1400 mm
977 X 1377 mm
2000-2300 LUX
23,195 kg
1110 X 1610 X 70 mm
ULD35TN023
555 X 809 mm
508 X 762 mm
485 X 739 mm
3000-3300 LUX
7,965 kg
620 X 970 X 70 mm
ULD35TN034
809 X 1063 mm
762 X 1016 mm
739 X 993 mm
2600-2900 LUX
13,670 kg
870 X 1220 X 70 mm
ULD35TN046
1063 X 1571 mm
1016 X 1524 mm
993 X 1501 mm
2000-2300 LUX
26,340 kg
1120 X 1740 X 70 mm
* W:Width H: Height D: Depth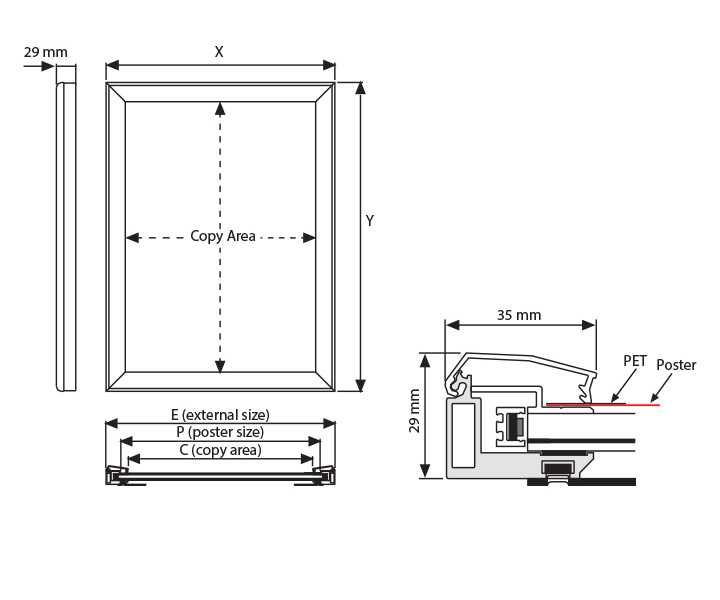 Smart LEDbox 35 mm Single Sided Product Print Templates
Smart LEDbox 35 mm Single Sided Product Assembly Sheets
Smart LEDbox 35 mm Single Sided Product Certificates & Warranty