Snap Frames 20mm
• Ideal for small-sized posters.
• ''Click Clack'' snap open working principle.
• Easy to mount, simple to carry.
• Natural silver-anodized and various.
• RAL colors are available.
• Mitred corners.
• Anti-glare poster cover sheet.
• Max length 1500mm and max perimeter 4000 mm
ACCESORIES
COLOR OPTION
SIZES
20″ X 30″ (508 X 762 mm), 30″ X 40″ (762 X 1016 mm), A1 (594 X 841 mm), A2 (420 X 594 mm), A3 (297 X 420 mm), A4 (210 X 297 mm), B1 (700 X 1000 mm), B2 (500 X 700 mm)
Snap Frames 20mm Product Description
Snap frames are one of most affordable and useful tools to display your graphics, advertisements, notes, posters and many other inserts. This poster frame is designed for graphics between A4 &30''-40'' poster sizes. Viewable portion of the poster will be smaller though, due to side profiles.
It is so easy to place or swap your graphics with this front loading poster frame. Snap open four front aluminum profiles and place your graphic with the protection lens over it and snap shut. Protection lens is made of PET. It is semi mat to prevent glaring. Another purpose of this lens is to protect your graphic from dirt and dust.
This snap frame can be mounted on both vertical and horizontal positions on walls. All the required hardware for mounting and an instruction sheet are sent within the product package.
Snap frame, quick clip metal sign frame, sign frame, metal sign frame, poster frame, sign holder, poster frame, poster holder, click clack frame
Snap Frames 20mm Accessories
Snap Frames 20mm Product Specifications
MATERIAL : Silver anodised aluminium PROFILE : 20 mm 450
WEIGHT
PACKING SIZE
ARTICLE
EXTERNAL (x-y)
POSTER
COPY
WITH PACKING
*W X H X D
UCN205N0A4
240 X 327 mm
210 X 297 mm
202 X 289 mm
0,480 kg
250 X 350 X 21 mm
UCN205N0A3
327 X 450 mm
297 X 420 mm
289 X 412 mm
0,750 kg
350 X 460 X 21 mm
UCN205N0A2
450 X 624 mm
420 X 594 mm
412 X 586 mm
1,220 kg
460 X 660 X 21 mm
UCN205N0A1
624 X 871 mm
594 X 841 mm
586 X 833 mm
2,240 kg
650 X 900 X 21 mm
UCN205N0B2
530 X 730 mm
500 X 700 mm
492 X 692 mm
1,450 kg
550 X 750 X 21 mm
UCN205N0B1
730 X 1030 mm
700 X 1000 mm
692 X 992 mm
2,970 kg
750 X 1050 X 21 mm
UCN205N023
538 X 792 mm
508 X 762 mm
500 X 754 mm
1,450 kg
560 X 810 X 21 mm
UCN205N034
792 X 1046 mm
762 X 1016 mm
754 X 1008 mm
3,150 kg
810 X 1070 X 21 mm
* W:Width H: Height D: Depth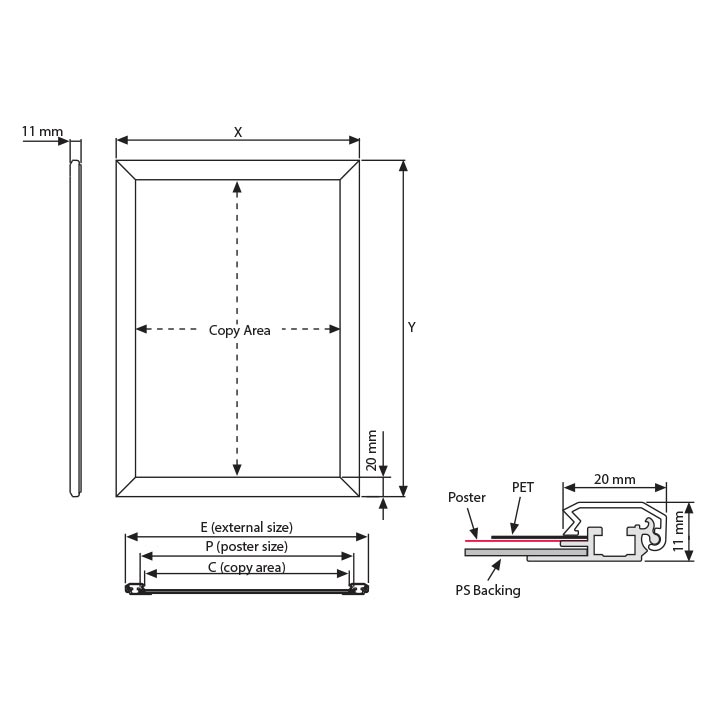 Snap Frames 20mm Product Print Templates
Snap Frames 20mm Product Assembly Sheets
Snap Frames 20mm Product Certificates & Warranty