Snap Frames 45mm
• Ideal for posters of every size.
• ''Click Clack'' snap open working principle.
• Easy to mount, simple to carry.
• Natural silver-anodized and various.
• RAL colors are available.
• Anti-glare poster cover sheet.
• Mitred corners.
• Max length 1350×2500 mm and max perimeter 7700 mm.
ACCESORIES
COLOR OPTION
SIZES
2 X 5 A4
Snap Frames 45mm Product Description
A perfect combination of a basic yet elegant design, cost effective price and durability makes displaysmarket's quick change sign frames a highly preferred option for advertising. This snap frame with sturdy aluminum frame and mitred corners is an ideal solution for heavy use, high traffic areas to stand out from the competition.
These snap frames utilize four hinged aluminum profiles that simply flip open and close in a snap. Easy poster changing once mounted on wall allowing the aluminum poster frames to stay on the wall. Just lift up sides of the snap frame and change the posters. These snap frames are ideal for businesses that need to exchange their graphics or advertisements frequently.
A poster frame, sign holder, or other sign frame offers a great way to display advertisements and graphics. This sign frame is a wall mounted poster holder that can be hung in a vertical or horizontal format. Easy to use snap open edges allow for quick and easy graphic changes.
The poster frame combines the desirable features of affordability with style and ease of use. The snap frame has secured its name and reputation owing to the clip style, hinge support structures that simply flip open and snap back into place for the easy rotation of graphics. The removal and replacement of images can be achieved in a matter of seconds with the clip metal sign frame. Best of all, the poster holder is a wall mountable display unit whereby the front loading design of the structure means you will not have to disassemble and reassemble the frame once it has been mounted. The poster frame can be positioned in either portrait or landscape presentation, with screws and anchors supplied. The clip metal sign frame has been manufactured with the highest quality materials including a plastic back panel, non-reflective transparent overlay and aluminum metal body construction for optimal durability. The frame features a silver matte finish with a slim line aesthetic. Please note, while the poster frame is petite and sleek in nature, a portion of your prints will be covered by the frame. For this reason it is recommended you print your graphics in dimensions that accommodate the frame border.
Each poster frame comes with mounting hardware and an instruction sheet. Setting up the frame on your wall will only take a couple of minutes. Then you are done and ready to display!
Snap frame, quick clip metal sign frame, sign frame, metal sign frame, poster frame, sign holder, poster frame, poster holder, click clack frame.
Snap Frames 45mm Accessories
Snap Frames 45mm Product Specifications
MATERIAL : Silver anodised aluminium PROFILE : 45 mm 450
WEIGHT
PACKING SIZE
ARTICLE
EXTERNAL (x-y)
POSTER
COPY
WITH PACKING
*W X H X D
UCN455N0A3
340 X 463 mm
297 X 420 mm
252 X 375 mm
1,250 kg
360 X 480 X 31 mm
UCN455N0A2
463 X 637 mm
420 X 594 mm
375 X 549 mm
1,800 kg
480 X 670 X 31 mm
UCN455N0A1
637 X 884 mm
594 X 841 mm
549 X 796 mm
2,840 kg
660 X 910 X 31 mm
UCN455N0A0
884 X 1232 mm
841 X 1189 mm
796 X 1144 mm
5,500 kg
910 X 1270 X 31 mm
UCN455N0B2
543 X 743 mm
500 X 700 mm
455 X 655 mm
2,600 kg
560 X 760 X 31 mm
UCN455N0B1
743 X 1043 mm
700 X 1000 mm
655 X 955 mm
4,000 kg
760 X 1060 X 31 mm
UCN455N0B0
1043 X 1443 mm
1000 X 1400 mm
955 X 1355 mm
6,500 kg
1060 X 1460 X 31 mm
UCN455N023
551 X 805 mm
508 X 762 mm
463 X 717 mm
3,200 kg
570 X 820 X 31 mm
UCN455N034
805 X 1059 mm
762 X 1016 mm
717 X 971 mm
4,150 kg
820 X 1080 X 31 mm
UCN455N046
1059 X 1567 mm
1016 X 1524 mm
971 X 1479 mm
7,200 kg
1070 X 1590 X 31 mm
* W:Width H: Height D: Depth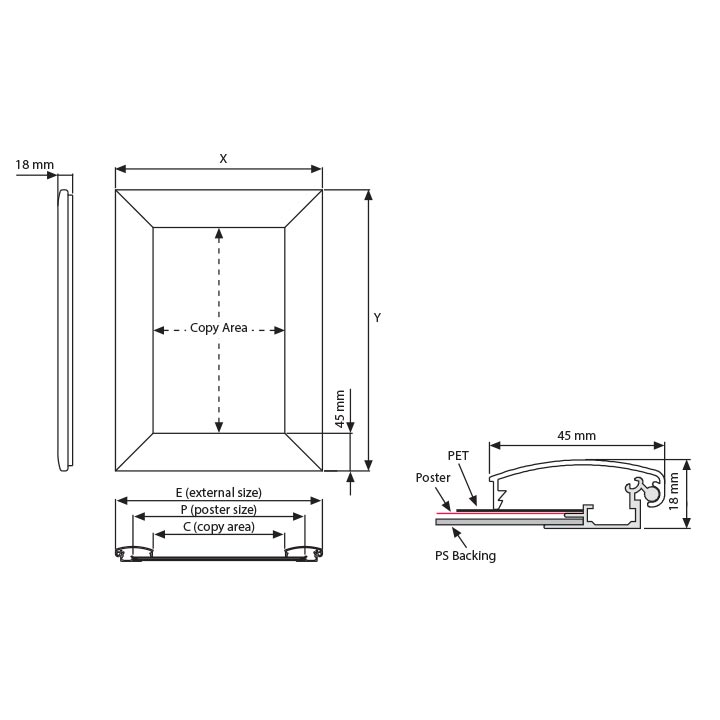 Snap Frames 45mm Product Print Templates
Snap Frames 45mm Product Assembly Sheets
Snap Frames 45mm Product Certificates & Warranty