Timber Chalk Board
Made of solid beech wood.
Indoor and ourdoor options are available.
Slide in panels are galvanised steel sheets which ensures for outdoor use as heavy and rust-free.
The erasable surface enables for erasing the messages and transmit them to your audience while keeping as updated easily.
Slide in panels are double sided that 2 different messages can be display.
Suitable for chalk or chalkboard water-based pen. No-ghost after cleaning
Suitable for places such as restaurants, cafes, bars, malls, offices and many more.
Clear PET pockets are available in A4 and A5 size with grey, black, white, red color options.
ACCESORIES
COLOR OPTION
SIZES
600 X 780 mm
Timber Chalk Board Accessories
Timber Chalk Board Product Specifications
MATERIAL : Beech wood
WEIGHT
PACKING SIZE
ARTICLE
SIZE
COPY
DESCRIPTION
WITH PACKING
*W X H X D
UWTC006078
600 X 780 mm
590 X 775 mm
Natural Wood-Outdoor
13,820 kg
690 X 1030 X 110 mm
UWTCD06078
600 X 780 mm
590 X 775 mm
Dark Wood-Outdoor
13,820 kg
690 X 1030 X 110 mm
UWTCNI6078
600 X 780 mm
590 X 775 mm
Natural Wood-Indoor
10,680 kg
690 X 1030 X 110 mm
UWTCDI6078
600 X 780 mm
590 X 775 mm
Dark Wood-Indoor
10,680 kg
690 X 1030 X 110 mm
* W:Width H: Height D: Depth
MAGNETIC PET COVER
ARTICLE
SIZE
COLOUR
UPCM0R00A4
210 X 297 mm
Red
UPCM0B00A4
210 X 297 mm
Black
UPCM0W00A4
210 X 297 mm
White
UPCM0G00A4
210 X 297 mm
Grey
UPCM0G00A5
105 X 148 mm
Grey
UPCM0B00A5
105 X 148 mm
Black
WOOD RANGE CHARACTERISTICS
Frame Features
Wood Type
Surface
Magnetic Feature
Guarantee
Colour
Lacquer
Easy Wood Frame with BLACK chalk surface
Beech Wood
Dry wipe
n/a
No-ghost guarantee
Natural wood
n/a
Frameless wooden frame with BLACK chalkboard
Fir Tree
Dry wipe
n/a
No-ghost guarantee
Light Brown
Lacquered
| | | | | | | |
| --- | --- | --- | --- | --- | --- | --- |
| A Board Features | Wood Type | Surface | Magnetic Feature | Guarantee | Colour | Lacquer |
| Wooden Host with BLACK chalkboardSolid wood | Fir Tree | Dry wipe | n/a | No-ghost guarantee | Dark Brown | Lacquered |
| Wooden Stopper with BLACK chalkboard massive wood | Fir Tree | Dry wipe | n/a | No-ghost guarantee | Light Brown | Lacquered |
| Wood Aboard Indoor, Chalk surface | Beech Wood | Dry wipe | – | No-ghost guarantee | Natural wood | n/a |
| Wood Aboard Outdoor, Chalk surface | Beech Wood | Dry wipe | Magnetic | No-ghost guarantee | Natural wood | Lacquered |
| Timber Chalk A Board | Fir Tree | Dry wipe | Magnetic | No-ghost guarantee | Natural wood | Lacquered |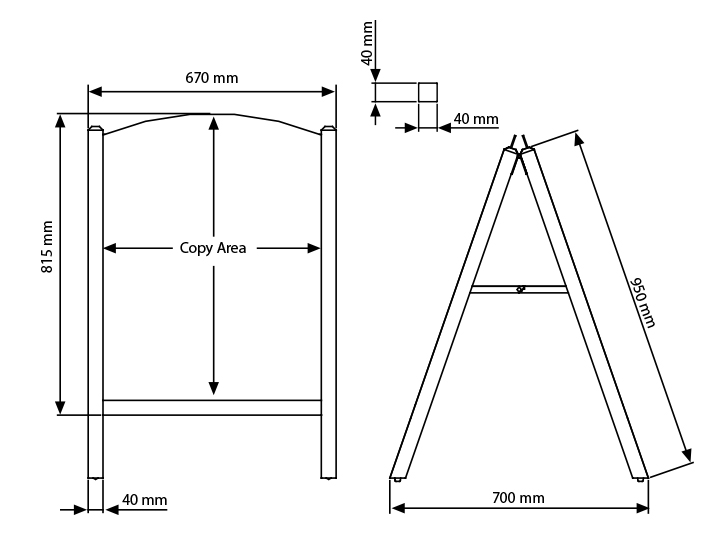 Timber Chalk Board Product Certificates & Warranty