Window Frames 25mm
•Easy to change the poster by opening front profile
•Anti-glare poster cover sheet.
•Available for indoor & Outdoor usage
•Double PET cover
COLOR OPTION
SIZES
20″ X 30″ (508 X 762 mm), 30″ X 40″ (762 X 1016 mm), 40″ X 60″ (1016 X 1524 mm), A0 ( 841 X 1189 mm), A1 (594 X 841 mm), A2 (420 X 594 mm), A3 (297 X 420 mm), A4 (210 X 297 mm), B1 (700 X 1000 mm), B2 (500 X 700 mm)
Window Frames 25mm Product Description
The Window Frames are reasonably displays for window presentation of medium and small size posters from both inside and outside.  Window Frames are easy to use only by opening the front profile. You just need to flip up all four sides and placed the first plastic, protective cover then the first poster facing outside, the second poster is placed facing inside and as last the second plastic, protective cover.
The frames which are also known as window mounted poster frames can be used in shops, airports, banks, car dealers, hospitals, travel agencies, offices, insurance companies windows, or to change menus and specials deals at restaurants.
These aluminium displays is available at different sizes. Window frames are designed to be window mounted, for this purpose there is a surrounding strong double sided tape at the back of each frame.
Each frame includes the contra frame to be applied on the side of the shop window. These poster frames can be mounted in either horizontal or vertical format.
Window Frames 25mm Product Specifications
MATERIAL : Silver anodised aluminium PROFILE : 25 mm 450
WEIGHT
PACKING SIZE
ARTICLE
EXTERNAL (x-y)
POSTER
COPY
WITH PACKING
*W X H X D
UCW255N4A4
240 X 327 mm
210 X 297 mm
192 X 279 mm
0,620 kg
260 X 350 X 21 mm
UCW255N4A3
327 X 450 mm
297 X 420 mm
279 X 402 mm
0,900 kg
350 X 460 X 21 mm
UCW255N4A2
450 X 624 mm
420 X 594 mm
402 X 576 mm
1,075 kg
460 X 660 X 21 mm
UCW255N4A1
624 X 871 mm
594 X 841 mm
576 X 823 mm
2,070 kg
650 X 900 X 21 mm
UCW255N4B2
530 X 730 mm
500 X 700 mm
482 X 682 mm
1,350 kg
550 X 750 X 21 mm
UCW255N4B1
730 X 1030 mm
700 X 1000 mm
682 X 982 mm
2,700 kg
750 X 1050 X 21 mm
UCW255N423
538 X 792 mm
508 X 762 mm
490 X 744 mm
1,400 kg
560 X 810 X 21 mm
UCW255N434
792 X 1046 mm
762 X 1016 mm
744 X 999 mm
2,900 kg
800 X 1070 X 21 mm
UCW255N446
1046 X 1554 mm
1016 X 1524 mm
998 X 1506 mm
5,150 kg
1070 X 1590 X 21 mm
* W:Width H: Height D: Depth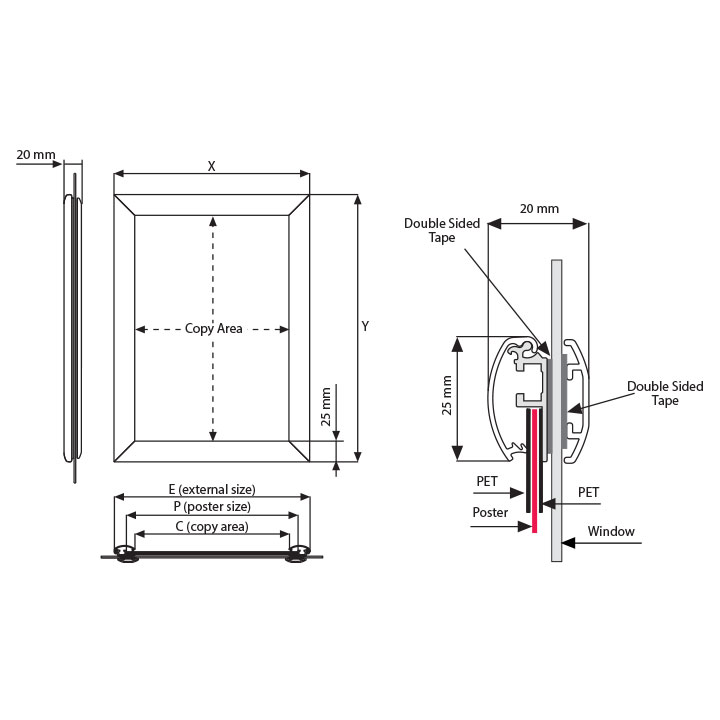 Window Frames 25mm Product Print Templates
Window Frames 25mm Product Assembly Sheets
Window Frames 25mm Product Certificates & Warranty