Wood Slide-in Frame
• Made of beech wood.
• Lacquer finish is applied.
• Unassembled packing.
• Double-sided slide-in panel provides easy change and usage.
• Suitable for chalk or chalkboard water-based pen.
• Suitable for both usage in landscape and portrait position.
• In order to ceiling mounting usage hanger can be mounted at the corner.
• Wire cable is not included in the package. Please order in need.
SIZES
5 X A4 (210 X 297 mm),
Wood Slide-in Frame Accessories
Wood Slide-in Frame Product Specifications
MATERIAL : Beech plywood
WEIGHT
PACKING SIZE
DARK WOOD
NATURAL WOOD
EXTERNAL (x-y)
COPY AREA
X1
WITH PACKING
*W X H X D
UWSFD000A4
UWSFN000A4
254 X 341 mm
210 X 297 mm
224 mm
0,590 kg
280 X 370 X 30 mm
UWSFD000A3
UWSFN000A3
341 X 464 mm
297 X 420 mm
311 mm
0,960 kg
370 X 490 X 30 mm
UWSFD000A2
UWSFN000A2
464 X 638 mm
420 X 594 mm
434 mm
1,550 kg
490 X 660 X 30 mm
UWSFD000A1
UWSFN000A1
638 X 885 mm
594 X 841 mm
608 mm
2,600 kg
670 X 910 X 30 mm
UWSFD00081
UWSFN00081
260 X 324 mm
8.5" X 11"
230 mm
0,580 kg
280 X 340 X 30 mm
UWSFD00017
UWSFN00017
324 X 476 mm
11" X 17"
294 mm
0,950 kg
340 X 500 X 30 mm
UWSFD00018
UWSFN00018
502 X 654 mm
18" X 24"
472 mm
1,650 kg
520 X 670 X 30 mm
UWSFD00022
UWSFN00022
603 X 756 mm
22" X 28"
573 mm
2,200 kg
620 X 770 X 30 mm
UWSFD00024
UWSFN00024
654 X 959 mm
24" X 36"
624 mm
2,900 kg
680 X 980 X 30 mm
* W:Width H: Height D: Depth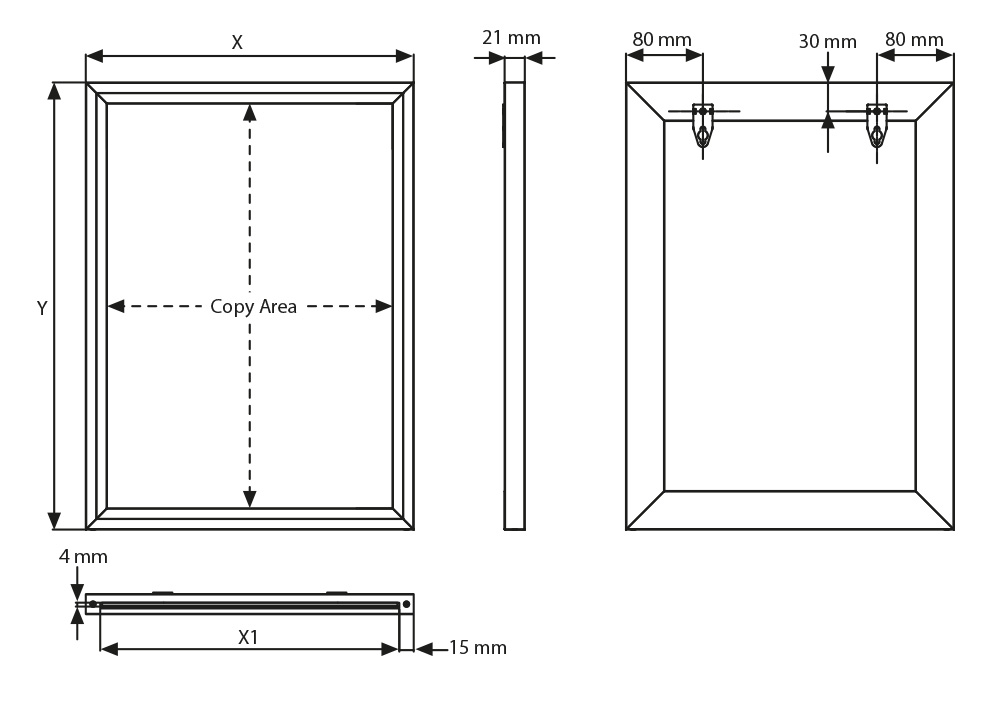 Wood Slide-in Frame Product Assembly Sheets
Wood Slide-in Frame Product Certificates & Warranty