Mono Totem
• Non snap profile with illuminated or unilluminated options
• Poster is placed on 2 long sides.
• Presents the poster as double sided.
• 500×1700 mm ans 600×1700 mm are available sizes.
SIZES
500 X 1700 mm, 600 X 1700 mm,
Mono Totem Product Description
The convex double-sided designed Mono Totem is offered with and without light. 
The totem display is a free light panel that is perfect for retail watch shows, store promotions and car showcases. They are equipped with a front loading frame to keep the graphics backlit on both sides and also allow for simple graphic editing. Smooth & durable aluminium construction provides stability.
On each side of Mono Totem is an opal acrylic diffuser sheet and a transparent antireflective front sheet, among which the backlit printing is interlaced. These are integrated into the system in a curved configuration for a panoramic perspective, creating a versatile, extremely pleasant and extremely effective display medium. The light boxes are equipped with standard fluorescent tubes.
The folded edges of the anti-glare poster sheets allow easy graphic insertion and alignment. 
Mono Totem Product Specifications
MATERIAL : Silver anodised aluminium
WEIGHT
PACKING SIZE
ARTICLE
EXTERNAL (x-y)
POSTER
COPY
DESCRIPTION
WITH PACKING
*W X H X D
UTTME10500
520 X 1700 mm
500 X 1700 mm
470 X 1700 mm
without light
18,000 kg
570 X 1750 X 60 / 370 X 540 X 40 mm
UTTME10600
620 X 1700 mm
600 X 1700 mm
570 X 1700 mm
without light
20,000 kg
670 X 1750 X 60 / 370 X 640 X 40 mm
UTTME00500
520 X 1700 mm
500 X 1700 mm
470 X 1700 mm
with light
19,000 kg
570 X 1750 X 60 / 370 X 540 X 40 mm
UTTME00600
620 X 1700 mm
600 X 1700 mm
570 X 1700 mm
with light
21,000 kg
670 X 1750 X 60 / 370 X 640 X 40 mm
* W:Width H: Height D: Depth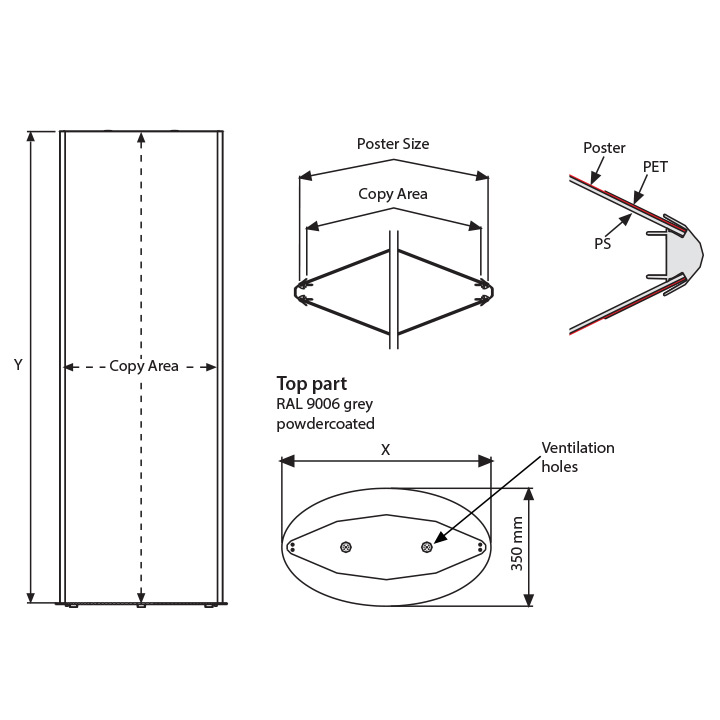 Mono Totem Assembly Sheets
Mono Totem Product Certificates & Warranty