Multiside Brochure Set on Wheels 1 Pole
• Set of multiple brochure holders.
• Heihght of the pole is 1600 mm.
• Both size of the pole are available to
carry five brochure holders.
• Wheels provide rotating and mobility for the set.
• Brochure holders are quickly and easily inserted.
COLOR OPTION
SIZES
A4/3 (210 X 110 mm), A5 (148 X 210 mm)
Multiside Brochure Set on Wheels 1 Pole Product Specifications
MATERIAL : Anodised aluminium & clear acrylic
WEIGHT
PACKING SIZE
ARTICLE
DESCRIPTION
SIZE
WITH PACKING
*W X H X D
UMBSG2T5A4
Silver main body
5A4
1,890 kg
700 X 1530 X 70 mm
UMBBG2T5A4
Black main body
5A4
3,000 kg
710 X 720 X 186 mm
UMSDA005A4
Acrylic Shelf & Adapter
A4
2,500 kg
180 X 240 X 180 mm (5 Pcs)
UMSDA012A4
Acrylic Shelf & Adapter
A4
6,000 kg
270 X 400 X 270 mm (12 Pcs)
UMSDA000A5
Acrylic Shelf & Adapter
A5
3,200 kg
290 X 360 X 190 mm (12 Pcs)
UMSDA00A43
Acrylic Shelf & Adapter
1/3 A4
2,550 kg
250 X 320 X 180 mm (12 Pcs)
UMSDA02A43
Acrylic Shelf & Adapter
2X1/3 A4
4,350 kg
250 X 320 X 350 mm (12 Pcs)
* W:Width H: Height D: Depth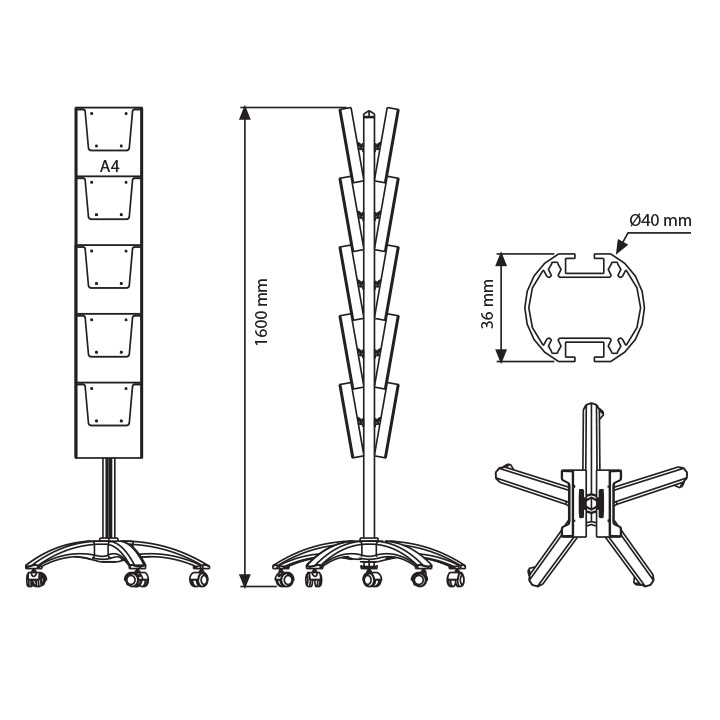 Multiside Brochure Set on Wheels 1 Pole Product Assembly Sheets
Multiside Brochure Set on Wheels 1 Pole Product Certificates & Warranty