Outdoor Sign
All-In-One Outdoor Sign : Informative Signs + Wipe Dispenser + Hand Sanitizing Station + Mask and Glove Dispenser + Trash Bag Holder for Disposals
Outdoor Sign as Hand Sanitizer Station offers a perfect hand hygiene option for schools, parks, playgrounds, outdoor festivals, job sites, and high traffic locations where water is not available. It safeguards food for grocery stores, farmers markets and outdoor food vendors.
It features a comprehensive, user-friendly cleaning process — Pull, Push, Wipe, Sanitize and trash for disposal – promoting good hygiene habits, a healthy environment and all around germ protection.
Outdoor Sign is suitable for Waterproof Frames max A1 size.

ACCESORIES
COLOR OPTION
Outdoor Sign Product Description
Key Features:
• Outdoor suitable pre-coated and powder-coated pole to post additional dispensers, box holding
brackets and trash bag holder. Weight of the pole, base and A3 frame is 12 kg in total.
• Heavy and durable, roll on wheels base, raised from the floor with a hand pull hole on it. Weight of the
base is 6 kg. Base is made of 4 mm steel in size of 40 x 45 cm. Base is heavy for stability and has
2 wheels for ease of mobility.
• Available in 2 colours; silver and black
• Total height of the Outdoor Sign is 1542 mm.
• Durable, textured powder coating suitable for outdoor conditions, resistant to scratches.
Additional Features:
• Waterproof Snap Frame A3, elbow push dispenser, Wipes Dispenser or Paper Towel Dispenser, mask and
glove box dispenser can be added on the pole in the required match, sold separately.
• Waterproof Snap Frame A3 can be posted on landscape or portrait positions.
• Hanging Trash bag holder (holder is 0,45 kg) can be added, sold separately. Simply use any outdoor
plastic trash bag around the steel holder and tie at the end of the pole. Easy to detach and dispose.
Max trash weight to carry on the holder is 8 kg.
Outdoor Sign Accessories
Outdoor Sign Product Specifications
MATERIAL : Silver & black anodised aluminium
WEIGHT
PACKING SIZE
ARTICLE
DESCRIPTION
WITH PACKING
*W X H X D
UHOSG10150
Pole and Base, 1500mm high, Textured Silver
12,000 kg
110 X 810 X 105 / 435 X 490 X 60 mm
UHOSB10150
Pole and Base, 1500mm high, Textured Black
12,000 kg
110 X 810 X 105 / 435 X 490 X 60 mm
* W:WidthH: HeightD: Depth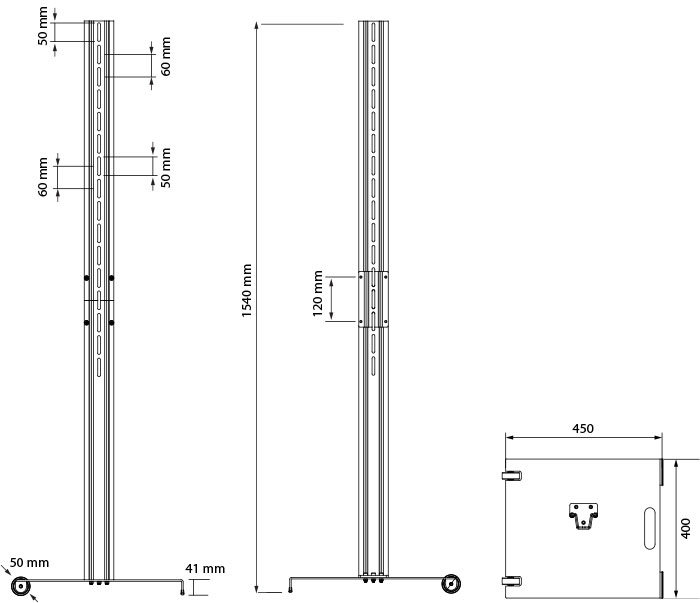 BRACKETS
WEIGHT
PACKING SIZE
ARTICLE
DESCRIPTION
WITH PACKING
*W X H X D
UHOSG20000
Dispenser Vol2 for Outdoor Sign, 1l (without gel), Textured Silver
0,700 kg
135 X 420 X 180 mm
UHOSB20000
Dispenser Vol2 for Outdoor Sign, 1l (without gel), Textured Black
0,700 kg
135 X 420 X 180 mm
UHOSN30017
Waterproof Snap Frame, 25mm 11"x17" for Outdoor Sign, Silver
1,250 kg
365 X 520 X 40 mm
UHOSN300A3
Waterproof Snap Frame, 25mm 11"x17" for Outdoor Sign, Black
1,230 kg
365 X 510 X 40 mm
UHOSB30017
Waterproof Snap Frame, 25mm A3 for Outdoor Sign, Silver
1,250 kg
380 X 520 X 40 mm
UHOSB300A3
Waterproof Snap Frame, 25mm A3 for Outdoor Sign, Black
1,230 kg
380 X 510 X 40 mm
UHOSG40000
Garbage bag holder for Outdoor Sign, Textured Silver
0,700 kg
330 X 350 X 75 mm
UHOSB40000
Garbage bag holder for Outdoor Sign, Textured Black
0,700 kg
330 X 350 X 75 mm
UHOSG50000
Pump Bracket for Outdoor Sign, Textured Silver
0,900 kg
135 X 290 X 135 mm
UHOSB50000
Pump Bracket for Outdoor Sign, Textured Black
0,900 kg
135 X 290 X 135 mm
UHOSG60000
Box Bracket for Outdoor Sign, Textured Silver
0,700 kg
150 X 290 X 75 mm
UHOSB60000
Box Bracket for Outdoor Sign, Textured Black
0,700 kg
150 X 290 X 75 mm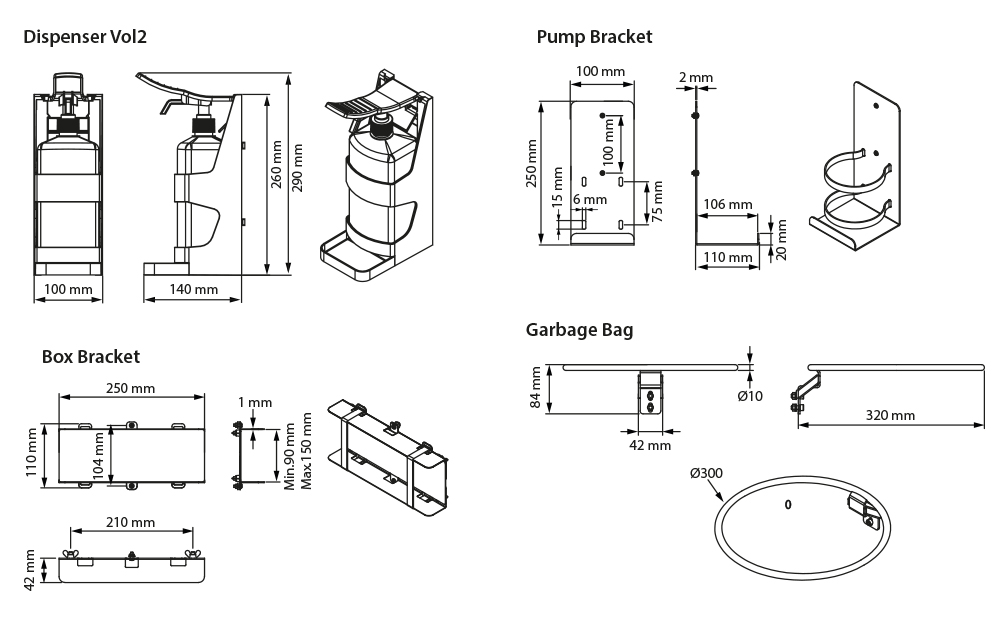 Outdoor Sign Product Assembly Sheets
Outdoor Sign Product Certificates & Warranty