Single Sided Slide-in Frame
• Easy to use by sliding the graphics in & out.
• Landscape & Portrait position.
• Silver and black color are available.
COLOR OPTION
SIZES
20″ X 30″ (508 X 762 mm), A1 (594 X 841 mm), A2 (420 X 594 mm), A3 (297 X 420 mm), A4 (210 X 297 mm), B2 (500 X 700 mm)
Single Sided Slide-in Frame Product Description
Single Sided Slide-in Frame
This Single Sided Slide-in Frame allows you to quickly make changes to the signs. Once you have mounted this placeholder on the wall, you never need to take it apart to change the posters. This poster frame is ideal for use in a busy office that frequently changes posters. Hang this place mark in a lobby to advertise a current sale or weekly interest rates. Each poster frame, such as a print display, can be mounted in landscape or portrait position. The poster is inserted from the top or side easily by sliding the back . Mount this poster frame, show the sign, in an employee room to permanently publish company rules and regulations.
Each poster frame can be easily mounted on a wall with two screws and two anchors (supplied). The wall mounting holes are hidden inside the frame. This slide-in poster frame is a very effective way to publish signage and advertising within a commercial environment. Silver and black colours are available in different sizes. Sealing rubber is free of charge.
Single Sided Slide-in Frame Product Specifications
MATERIAL : Silver anodised aluminium
WEIGHT
PACKING SIZE
ARTICLE
EXTERNAL (x-y)
POSTER
COPY
WITH PACKING
*W X H X D
UCS245N1A4
243 X 330 mm
210 X 297 mm
196 X 283 mm
0,320 kg
260 X 350 X 21 mm
UCS245N1A3
330 X 453 mm
297 X 420 mm
283 X 406 mm
0,700 kg
350 X 460 X 21 mm
UCS245N1A2
453 X 627 mm
420 X 594 mm
406 X 580 mm
1,100 kg
460 X 660 X 21 mm
UCS245N1A1
627 X 874 mm
594 X 841 mm
580 X 827 mm
2,200 kg
650 X 900 X 21 mm
UCS245N1B2
533 X 733 mm
500 X 700 mm
486 X 686 mm
1,350 kg
550 X 750 X 21 mm
UCS245N123
541 X 795 mm
508 X 762 mm
494 X 748 mm
1,510 kg
560 X 810 X 23 mm
* W:Width H: Height D: Depth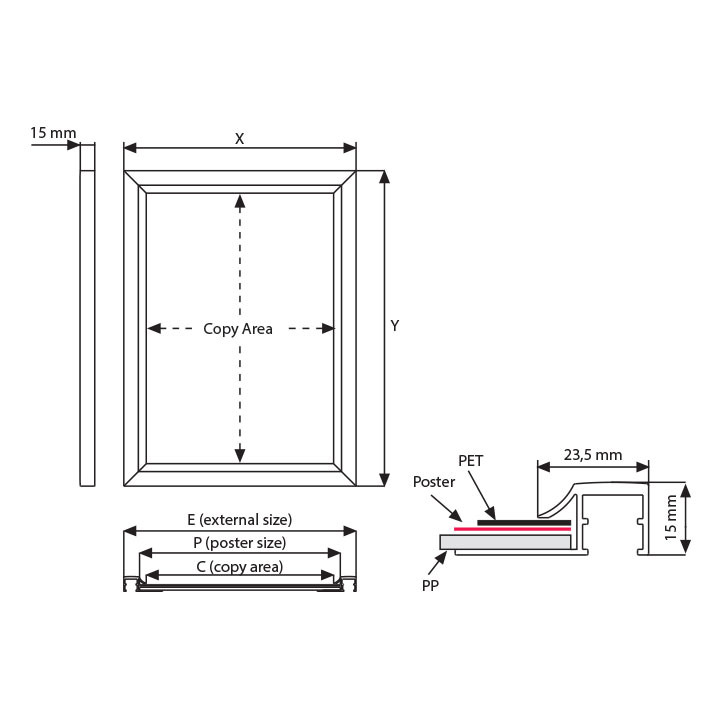 Single Sided Slide-in Frame Product Print Templates
Single Sided Slide-in Frame Product Assembly Sheets
Single Sided Slide-in Frame Product Certificates & Warranty