SwingPro Plus
With increase performance, WindPro Plus is more durable against outdoor conditions. It consists of 2 main articles: frame and the base. The gasket in frame provides high vacuuming to UV resistant poster protection to keep the poster dry. PET is fixed on the top profile to help easy poster change. The poster stickers are also keep the poster in place avoid sliding down the frame get wet. No sharp edges and has steel springs for flexibility. Poster use is double sided.
• for optional header use, header enabled frames must be ordered.
ACCESORIES
COLOR OPTION
SIZES
20″ X 30″ (508 X 762 mm), 22″ X 28″ (559 X 711 mm), 24″ X 36″ (610 X 914 mm), 30″ X 40″ (762 X 1016 mm), A0 ( 841 X 1189 mm), A1 (594 X 841 mm), B1 (700 X 1000 mm), F0 (1200 X 800 mm)
PATENT
DM/098 297 PCT/EP2018/060515
SwingPro Plus Product Description
In case SwingPro and WindPro is required with a "HEADER" option, then the standard frames cannot be used. Please contact our sales department for the frames suitable for use with header.
SwingPro Plus Accessories
SwingPro Plus Product Specifications
FRAME : Silver anodised aluminium
WEIGHT
PACKING SIZE
SILVER
BLACK
EXTERNAL (x-y)
POSTER
COPY
WITH PACKING
*W X H X D
USWPP00NA1
USWPP00BA1
671 X 918 mm
594 X 841 mm
582 X 829 mm
8,000 kg
705 X 1180 X 40 mm
USWPP00NA0
USWPP00BA0
918 X 1266 mm
841 X 1189 mm
829 X 1177 mm
12,000 kg
960 X 1545 X 40 mm
USWPP00NB1
USWPP00BB1
777 X 1077 mm
700 X 1000 mm
688 X 988 mm
10,200 kg
815 X 1320 X 40 mm
USWPP00NB2
USWPP00BB2
577 X 777 mm
500 X 700 mm
488 X 688 mm
6,800 kg
610 X 1020 X 40 mm
USWPP00N23
USWPP00B23
585 X 839 mm
508 X 762 mm
496 X 750 mm
7,960 kg
615 X 1100 X 40 mm
USWPP00N34
USWPP00B34
839 X 1093 mm
762 X 1016 mm
750 X 1004 mm
11,300 kg
875 X 1350 X 40 mm
USWPP00N22
USWPP00B22
635 X 788 mm
559 X 711 mm
547 X 699 mm
6,100 kg
665 X 1030 X 40 mm
USWPP00N24
USWPP00B24
687 X 992 mm
610 X 915 mm
598 X 903 mm
9,000 kg
710 X 1240 X 40 mm
USWPP00NF0
USWPP00BF0
877 X 1277 mm
800 X 1200 mm
788 X 1188 mm
13,000 kg
880 X 1500 X 40 mm
STEEL BASE : Powder coated iron
WEIGHT
PACKING SIZE
SILVER
BLACK
SIZE
FOR
H
W
D
WITH PACKING
*W X H X D
UTSM001000
UTSM001010
920 mm
20"X30"
1139 mm
690 mm
920 mm
3,500 kg
220 X 970 X 47 mm
22"X28"
1088 mm
690 mm
920 mm
3,500 kg
220 X 970 X 47 mm
B2
1077 mm
690 mm
920 mm
3,500 kg
220 X 970 X 47 mm
UTSM002000
UTSM002010
1070 mm
A1
1218 mm
690 mm
1070 mm
4,000 kg
220 X 1180 X 47 mm
24"X36"
1292 mm
690 mm
1070 mm
4,000 kg
220 X 1180 X 47 mm
UTSM003000
UTSM003010
1260 mm
B1
1377 mm
890 mm
1260 mm
4,600 kg
220 X 1310 X 47 mm
30"X40"
1393 mm
890 mm
1260 mm
4,600 kg
220 X 1310 X 47 mm
F0
1577 mm
890 mm
1260 mm
4,600 kg
220 X 1310 X 47 mm
UTSM004000
UTSM004010
1420 mm
A0
1566 mm
890 mm
1420 mm
5,600 kg
220 X 1480 X 47 m
* W:Width H: Height D: Depth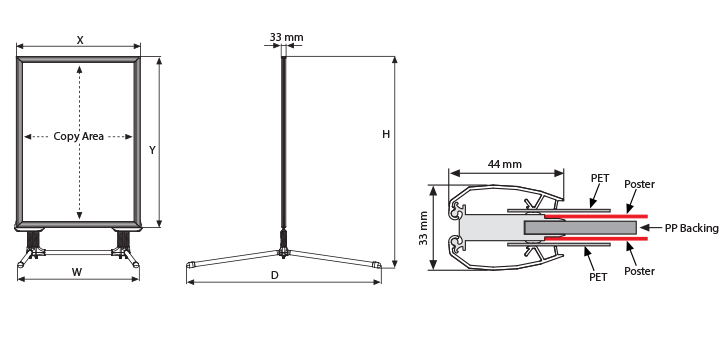 SwingPro Plus Product Print Templates
SwingPro Plus Product Assembly Sheets
SwingPro Plus Product Certificates & Warranty